SMS compliance in New Zealand
In New Zealand, all marketing messages must comply with all NZ Privacy and Spam legislation.
It is your responsibility to ensure you comply with these rules.
The following are some general best practices:
• Text messages cannot be sent to handsets that have not opted-in to messages
• Short codes are compulsory for Marketing campaigns. (Alpha Numeric headers are not allowed)
• One short code can be used for one use case only. Additional use cases require additional short codes
• SMS campaigns should have an unsubscribe function (eg. HELP/STOP) in the recipient's local language
• An opt-out must be provided at the end of the message
• Opting out/unsubscribing must be free of charge for Marketing messages, and must be with the same means of contact as the outbound message
• The sender must be identified at the beginning of the message
• Only communicate during a recipient's daytime hours unless urgent
• Do not contact end users on do-not-call or do-not-disturb registries
• Where there is a call to action required and if the phone user will get charged for it, it is important to inform them of the charge as phone bundles
Here are some examples of messages that meet these guidelines: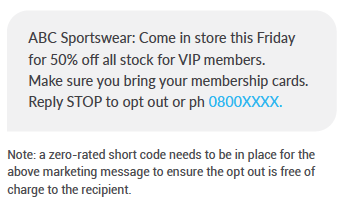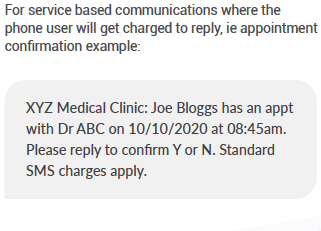 2021 New Zealand Shortcodes – General operation requirements
The use of Alphanumeric headers (AN) for SMS is not permitted in NZ as it is not possible to get replies back, which means phone users are not able to opt out by replying STOP.
A shortcode which is a 3 or 4 digit code is permitted to send Application to Person (a2p) SMS in NZ. The use of Long Code (LC) is not permitted either.
A dedicated shortcode is required for sending SMS into NZ especially, for Marketing Campaigns.
Shared shortcodes are not permitted in New Zealand. Hence it is best to use a dedicated shortcode for each service.
Benefits of a dedicated code
• Being on a dedicated code means that all messages will originate from the same single number, and no other organisations will be able to send traffic on that code.
• This would also increase the credibility and TRUST of customers, as they will always come from the same code.
• No risk of code being suspended and services affected by network operators due to SMS spam or scam.
Technical support capabilities
Delivery Receipts SMSC (DR)
Delivery Receipts Handset (DR)
Mobile Number Portability (MNP)
Data Encoding Support
Concatenation Support
Important regulation information
The TCF
The New Zealand Telecommunications Forum (TCF) is a member organisation, representing the majority of telecommunications providers in New Zealand (over 95% by revenue share). You can read TCF regulation here.
Their members pay for their services, which include public good initiatives, disputes resolution services, logistical processes, and consumer education, so consumers can access them for free.
The forum provides neutral, independent information about New Zealand telecommunications products and services and how the industry works in New Zealand.
The DIA
The Department of Internal Affairs serves and connects people, communities, and government to build a safe, prosperous,
and respected nation. You can read about SMS spam on the DIA's website, both here and here.
The UEMA
The Unsolicited Electronic Messages Act (UEMA), also called the anti-spam law, makes it illegal to send spam to, from or within New Zealand, or using harvesting software to create address lists to send unsolicited commercial electronic messages, eg emails or text messages. You can read more about this here.
On September 5th 2007, the Unsolicited Electronic Messages Act 2007 came into force. The Act prohibits the sending of unsolicited commercial electronic messages with a NZ link. It also requires all commercial electronic messages to include information about who authorised the message and to provide a functional unsubscribe facility. Finally, it prohibits address harvesting for the purpose of unsolicited commercial messages.
---
---