Bigin: Send bulk SMS via Zapier
Purpose
This article will demonstrate how to integrate Bigin with ClickSend using Zapier. Plus, it will show you how to send bulk SMS messages every time a specific event happens in Bigin. For example, you want to quickly alert clients by SMS when you add a new product.
Pre-requirements
You'll need a Zapier account to complete this integration. You can create a free account here.
Free Zapier accounts have some limitations:
Set up a maximum of 5 automations (Zaps)
Perform up to 100 tasks per month.
Subscriptions are available if you need unlimited access to automations. 
Setting up the integration
Log into the Clicksend dashboard and select 'Zapier App Directory'. You'll find this on the bottom left-hand side of the tool bar.
In the search bar type in 'Bigin by Zoho CRM' and select. Remember, you'll need a Zapier account.

Once you've selected 'Bigin by Zoho CRM, scroll down and select 'Create your own workflow'.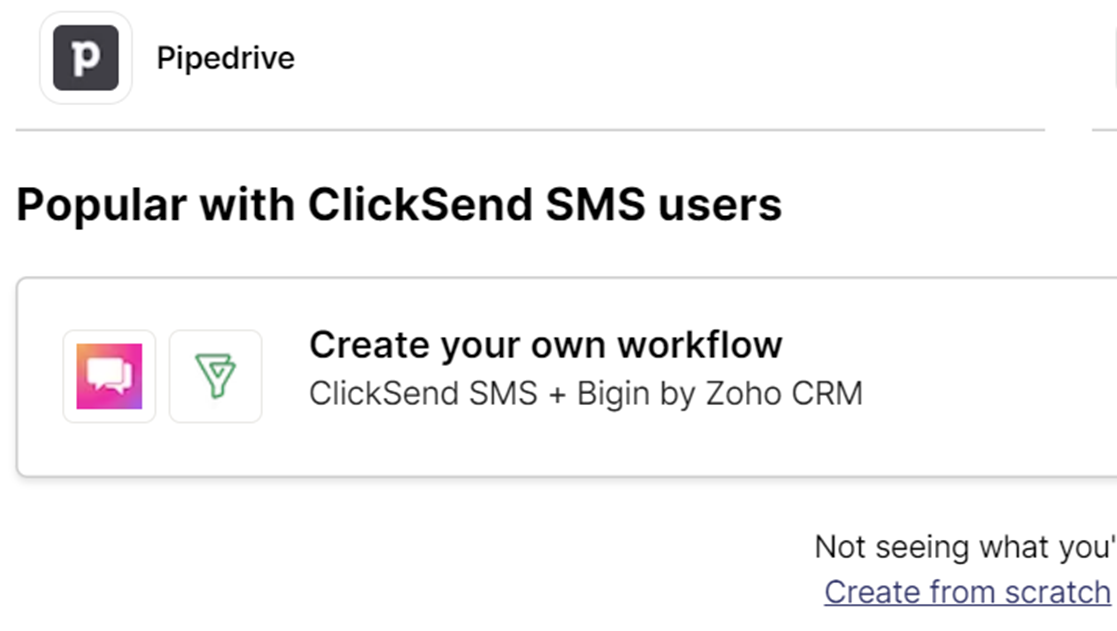 Choose the trigger and response you want (this is your Zap). Then click 'Connect ClickSend SMS + Bigin'. In the below example, everytime a new product is added to Bigin, an SMS will be sent to everyone on the contact list using ClickSend.
Click 'Get start'
Log into your Bigin account, if you are already logged in then click 'next'
Select the organisation you want to link your Zap to. Note, if you have multiple organisations, you'll need to create another Zap specifically for each organisation. Remember a Zap is just a trigger and an action, your Zapier account can have multiple Zaps.
Select your ClickSend account
In the 'map fields' form, you can add placeholder data from your Bigin account such as product name, owner name, and many other placeholders. Don't forget to fill out the 'From' and 'Message input' fields.

Run a test to make sure the integration works. Make sure to turn on the new Zap!
---
---