How do I sync my contacts with my CRM (Salesforce, Zoho CRM & More)
The contact sync feature gives you the ease of keeping your ClickSend contacts up to date without the hassle of regularly importing and exporting the contact records in csv files.
Whether you're using Salesforce, Zoho CRM, or other CRM connectors, we want to make it easy for you to sync your contacts. This guide steps through the steps you need and provides answers to your FAQs such as:
Contact Sync Setup
How do I set up contact sync?
Step 1: Go to the contacts page and click on the add contact button.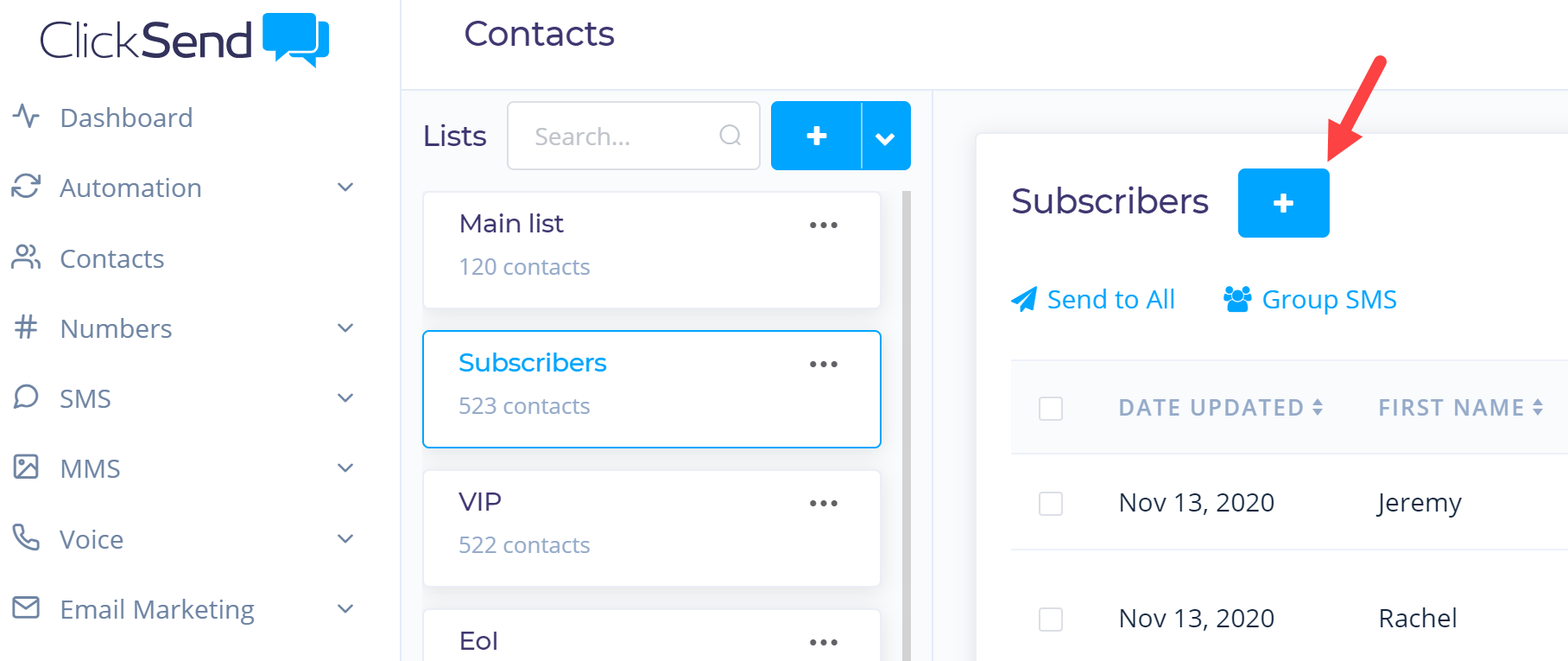 Step 2: Click on the "Sync Contacts" tab to view the CRM connectors available.

Step 3: Click "Install" for your desired connector. In this example, we will show you the steps of connecting Salesforce. Each connector may have slightly different fields or capabilities. The description for each connector will explain possible actions (e.g. sync new contact, updated contacts or deleted contacts).

Step 4: Choose a list to sync your CRM contacts into and map your ClickSend list fields to your CRM's contact fields. Fields marked with * are optional. Click Sync and you're done!
What changes will contact sync pull all the changes I make in my CRM into ClickSend?
New Contact
Edited Contact (only if the fields changed are mapped to ClickSend)
Deleted Contacts*
*Depending on the CRM. Some CRMs do not update deleted contacts in a way that makes it possible for us to pick up on. Check the description of the connector in the contact sync tab to confirm if your deleted CRM contacts will be deleted from ClickSend.
Can I select which contacts I'd like to sync based on filters or conditions?
Not at this stage, but let us know what your needs are here and we will let you know when we are building this capability.
How long do I have to wait for a contact to sync?
You will start to see contacts transfer into your list within the first 1 to 5 mins. Depending on the number of contacts you are syncing, the complete sync may take up to 10 mins.
Two-way Sync
Will changes I make to my ClickSend contacts reflect in my CRM?
By default, syncing happens one-way only (updates to CRM contacts reflect in ClickSend). On request, we may be able to accommodate custom syncing needs such as two-way syncing. Please chat to our support team or email us at support@clicksend.com for more information.
Connector Actions & FAQs
What happens when I stop syncing a connector?
No further contact updates will be synced into ClickSend. The contacts you have already synced will remain in your list.
What happens when I restart syncing a connector?
Any new contacts on your CRM will be synced into your selected ClickSend list. Previously synced contacts will not be added to ClickSend again (unless they are updated on your CRM).
What happens when I uninstall a connector?
No further contact updates will be synced into ClickSend. The contacts you have already synced will remain in your list.
What happens when I reinstall a connector?
A reinstallation resets your connection. This means that all the contacts in your CRM will be synced into ClickSend (contacts that were synced in your previous installation will not be excluded, they will be synced again).
If I delete a contact in ClickSend, will it get synced again?
No, it will not be added to ClickSend again unless you uninstall then reinstall the connector.
Syncing Requests
How do I sync other types of record (e.g. account, lead, customer, subscriber etc.)?
While each connector is initially set up to sync with one type of record (e.g. Salesforce Contacts will only sync in contacts, not leads), you may contact us through chat support and request for new types of records from our existing connectors.
What if I want to sync with a CRM you don't offer a connector for?
We are going to regularly add new connectors to our collection based on your requests. Please request your desired connector here. If your CRM has data sharing capability, we will consider your request in our next release cycle.
---
---