TFN Application approval process
This document runs through the steps required by support to approve a TFN application form submitted through Jotform.
Tools needed to perform this function:
OneLogin
Admin (access through OneLogin)
Jotform (access through OneLogin)
Ring Central (access through OneLogin)
Gmail
Ensure you have Authy on your mobile device for 2FA
Approving TFN Applications:
Log into Jotform from OneLogin
Click on xx submission under ClickSend TFN Verification Form

Click on Approval Status: In progress to expand the list of In Progress applications
Scroll down to start from the oldest applications
Hover your mouse cursor over the date for the application and the view pop up button will appear, click view

Information about the application will appear on the right hand side
If there is a note in the notes field, it is highly likely that this application is a re-submission and that we have been in communication with the client. If the notes are no longer valid, remove them and add new notes if need after looking at the form.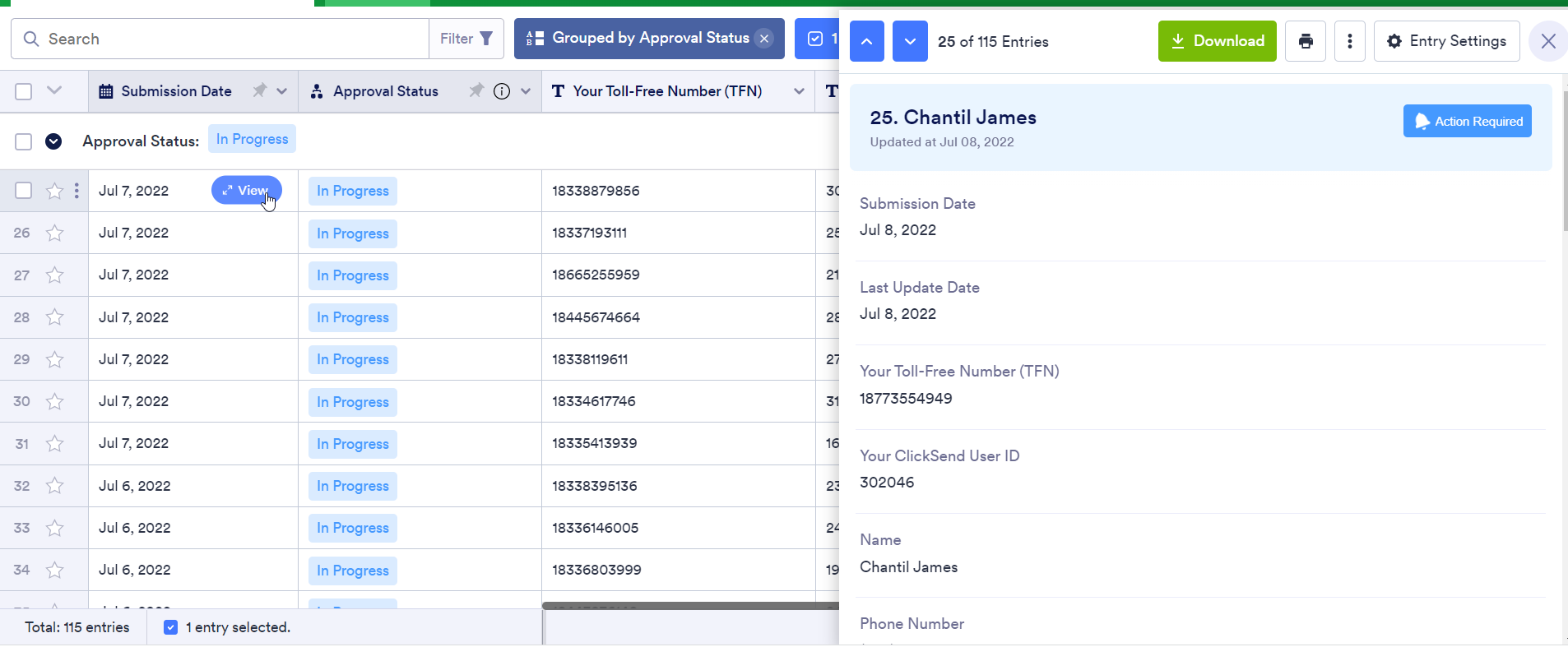 Scroll through the information and ensure that the following is correct:

Verify their TFN on the form, by going to the Numbers section in Admin and searching for that TFN. (Ensure you add + in front of the TFN in the search field in admin). In Admin, go to Settings, then Numbers. If a number on Jotform has been supplied by the customer in this format: 1-833-267-6330 please change it and remove the dash. All TFNs will start with +18 or 18, & then 9 characters (eg +18000000000 or 1800000000). Any requests with numbers that don't match this format should be updated with the customer's correct TFN, or declined.
Verify the user id in admin linked to the TFN number in the same area you did the search as per the point above
If the TFN doesn't appear in Numbers, go to the admin account by copying and pasting the user id and searching for it in admin by pasting it in the search option at the top of the Admin screen. See if the TFN that you could not view in Numbers are assigned to that user id. If so, then that is fine. If not, you need to go back to the customer stating that the TFN they supplied does not match our records and can they confirm if this number is correct. Click on More information required after typing your message in the message box.
Check the information under: How do customers opt-in to receiving messages from you? On the form and then match it up with what they say under Describe the opt-in process . If they refer to their website, follow the link and check if you can see the opt-in option they are referring to
If the customer is using their TFN for internal company comms or for internal system notifications or it is for personal use only then you can send these form to the user and ask them to complete it:

TFN opt-in - Personal.docx or TFN opt-in - Internal.docx

Validate that the screen shot provided under Please provide supporting information about how customers opt-in, such as a screenshot of your is indeed matching the information they have give before about the opt in options
Validate that in the screen shots of the sample message, you can see an opt out option
If you need any of the data amended, Type your message to the customer in the Add your comment here section and click on More Information Required - Note that there is a template being used once you click on More information Required, keep the details you add in the message field brief. You can use the examples found here

Please leave a note in the notes field if there is anything we can't approve due to us not being sure how we going to react to the customer's use case for their TFN. Especially around them using it for personal use or very small businesses. Then reach out to Tyrell or Maya for questions.
If you are happy with all the information and everything has been validated, click on Approved by Cust. Support
Follow up on TFN Applications
Any feedback from a customer on the message we sent them for "More Information Required" will go back into admin to the support@clicksend.com email address. These replies will then get added to the TFN Feedback channel by our support teams and/or automatically routed to this channel
There will be a TFN team member assigned each day to work through these in the TFN feedback channel
Click the thumbs up icon on the message in the channel to indicate that you are busy looking into this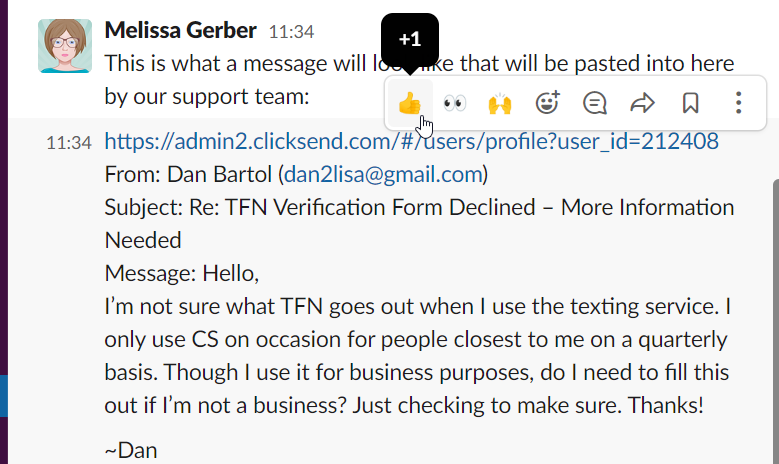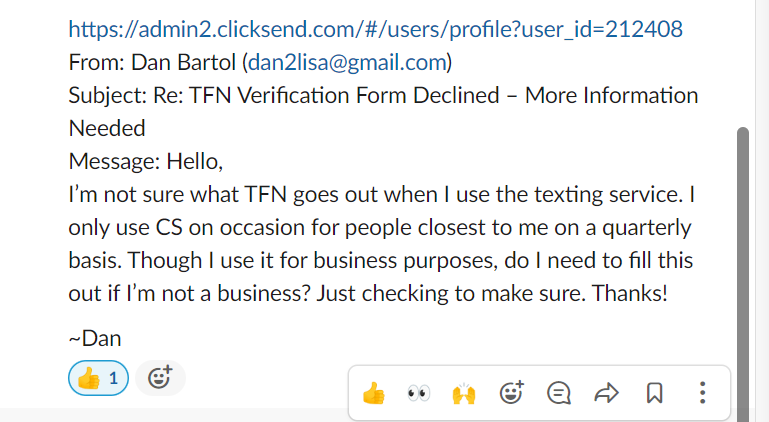 Click on the admin link, this will take you into the account where you can view the message
Hit the reply button on the message we received and ensure you check the Name used to address the person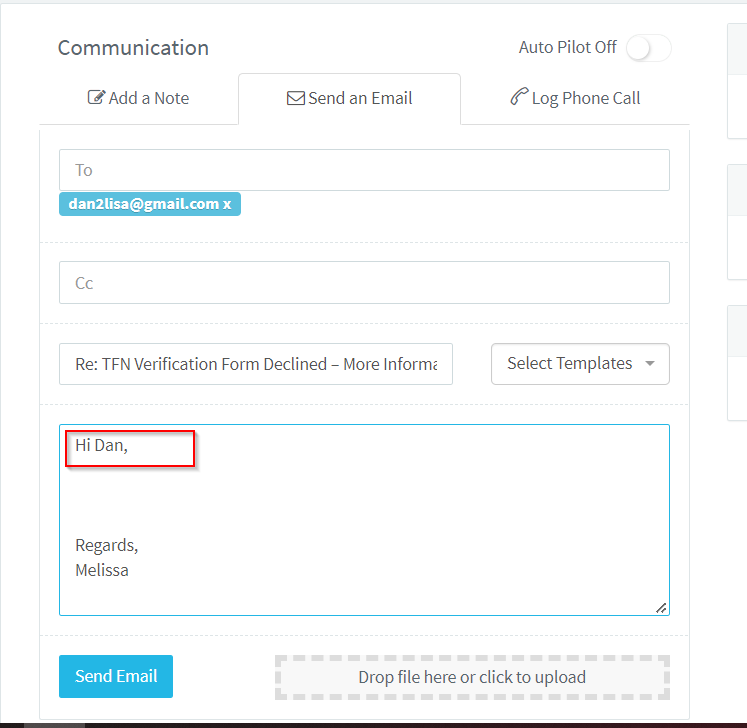 Type your reply and click Send Email
Go to Jotform
In the search bar at the top in the table screen, search for the email address or user id: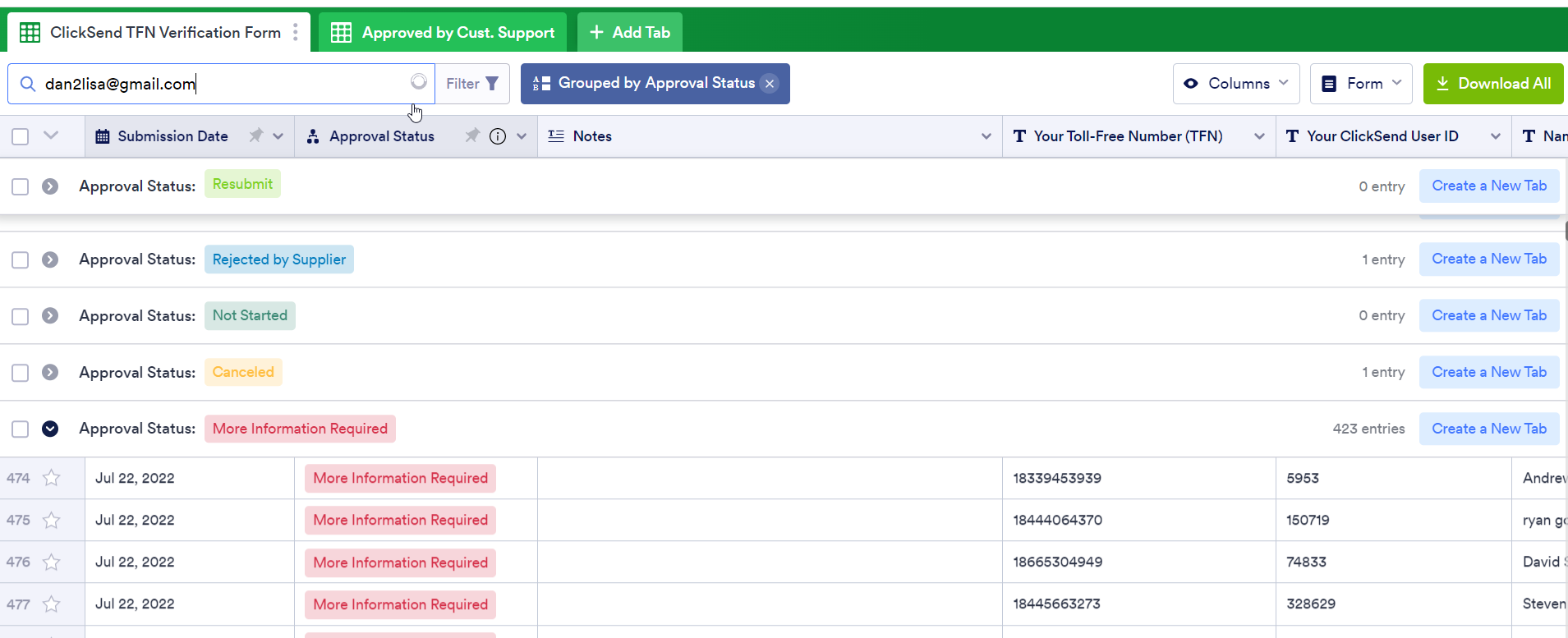 The search result will display the entry under the appropriate status and you will see the words 1 entry next to the status and the information you require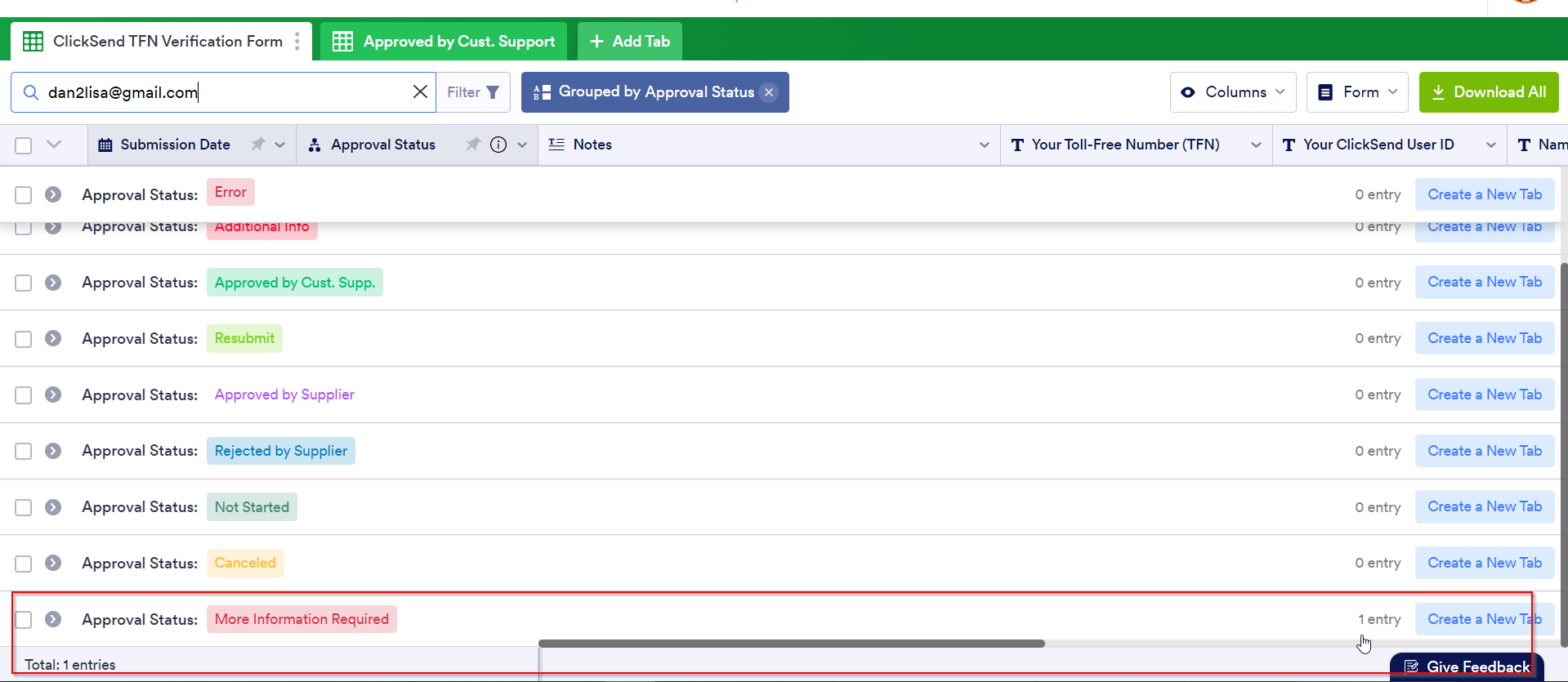 Expand the More Information Required status to see the notes column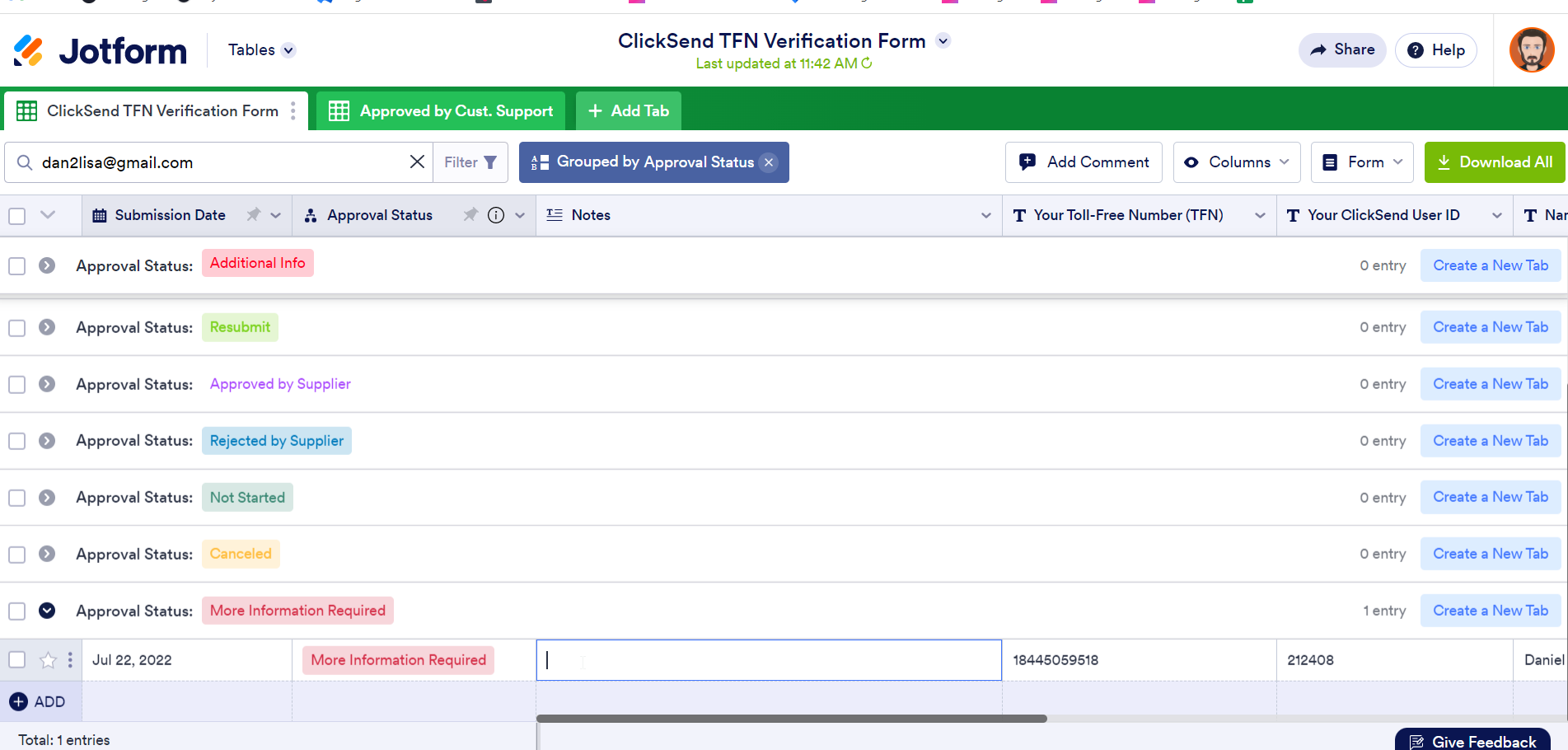 Add a note that says: Replied to user. See comms in Admin: (paste the link of the admin account)

Click out of the notes field and you will see the pasted url will form a link

If you are unable to answer the question asked by the user in Admin. You can escalate this to Tyrell via slack and update the Notes field in admin that you have done so and paste the Admin link to the account in the notes field
---
---