How to integrate with Blendr
In this article, we're going to look at how you can use Blendr.io, a data integration and cloud automation platform, to connect (https://blendr.io/integrations/ClickSend) ClickSend with your CRM, webshops, helpdesks, project management tools and other applications.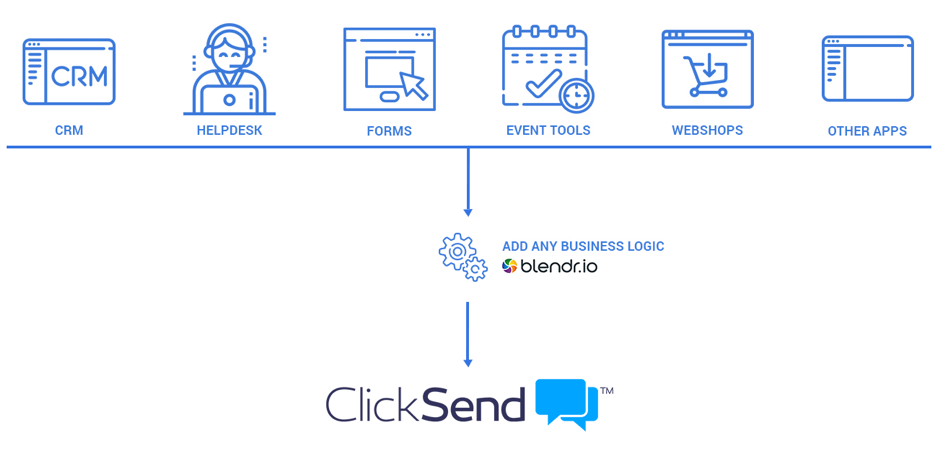 About Blendr.io
Blendr.io (https://www.blendr.io/) is an integration platform with connectors to 150+ marketing, sales, and events tools.
Use the Data Blend Editor to connect ClickSend with other tools and add any business logic to create your integration. You can set up one-to-one integrations or build complex multiplatform workflows using powerful Blendr.io features.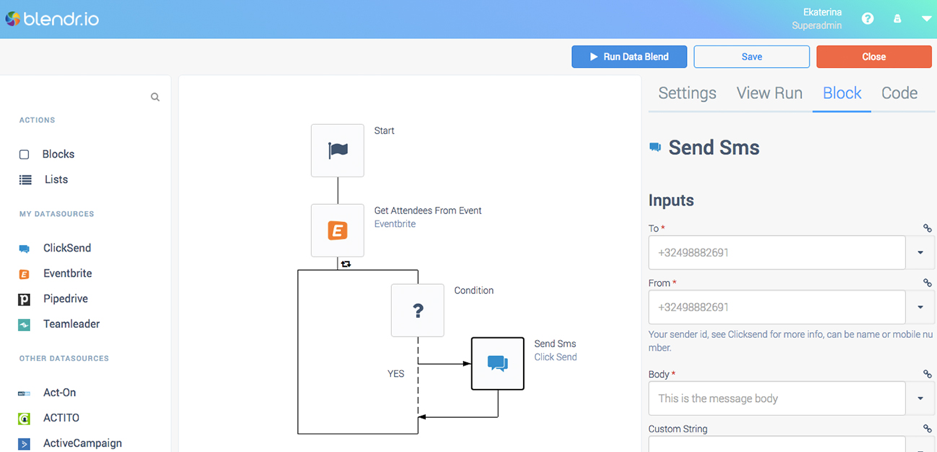 If you are familiar with Zapier, you might wonder how Blendr.io is different. Well, Zapier is a great tool to solve basic integration needs. In case you need to automate complex one-to-one or multiplatform workflows, e.g. trigger a chain of actions based on advanced conditions and variables, you need to use another platform that can offer you more flexibility and more control over your data flows, such as Blendr.io. Here is the full comparison. (https://www.blendr.io/blendr-io-vs-zapier/)
Integration scenarios
CRM - ClickSend
Send an SMS to your customer when she meets some conditions, for example, when a new contact is added to a certain CRM segment or a deal is won.
Webshop - ClickSend
Send an SMS to your customer when a new order is created.
Helpdesk - ClickSend
Send an SMS when a new ticket is resolved.
Website forms - ClickSend
Send an SMS when a website form is filled in and certain conditions are met.
Project management - ClickSend
Send an SMS to your colleague when a new project is assigned to her.
Event platform - ClickSend
Send SMS notifications to your registrants and attendees before, during and after events.
 Connect ClickSend to your favorite tools and automate your workflows.
---
---