PieSync
PieSync enables you to connect cloud apps with a two-way contact sync and share data between various marketing, CRM, invoicing and e-commerce apps.
Within PieSync, you can sync your ClickSend contacts and companies with other cloud based applications in real time.
If you'd like to check out this integration, here is a link you can use: https://app.piesync.com/referrer/2jhx4 You will automatically get $50 credits.
To set up this integration you will first need to create a PieSync account or log into an existing account. When you are logged in to PieSync, click the New Connection button at the top of your PieSync account.

Once you select ClickSend as your first service, you will see a new list of services that it can be connected to.
After choosing your two apps, you will need to authorisePieSync's access to those apps.

For each connection, you can either choose an existing account or add a new one. When adding a new ClickSend account, a pop-up window will open asking you to log in to your ClickSend site. You can find your API credentials here.
Once you have your accounts selected and authorised, click the Configure the sync button at the bottom of the screen.

Customer data type
Depending on the app combination you have selected, you may have the option to set the customer data type you want to sync. For ClickSend, you can choose contacts.
Note: Not all integrations support both data types so will default to the available option.
Connection rules
At the top of the configuration page, you can use the arrows to choose between two-way or one-way sync options.By default, two connection rules will be displayed. For each rule, you will have two sections:
IF data type is in app A

You can add filters here to add conditions

THEN sync and perform a selected action in app B
Example:If a contact is in Google Contacts then sync it two-way between Google Contacts and ClickSend 'if the contact has a phone number'.To the right of each rule, you can either delete the rule or turn it on/off. At the bottom of the connection rules section, you can add new rules or refresh the existing rules. 
Connection settings
In the connection settings, you can avoid duplicate entries by only syncing contacts that have an email address.You can also prioritise which app takes precedence for how customer data is handled when field values are conflicting.
Depending on the app you are connecting to, you may also see additional options.

Field mapping
Field mapping allows you to specify which field types in one app should directly correspond to fields in the second app. Standard ClickSend fields will be mapped by default which can be disabled using the toggles to the right.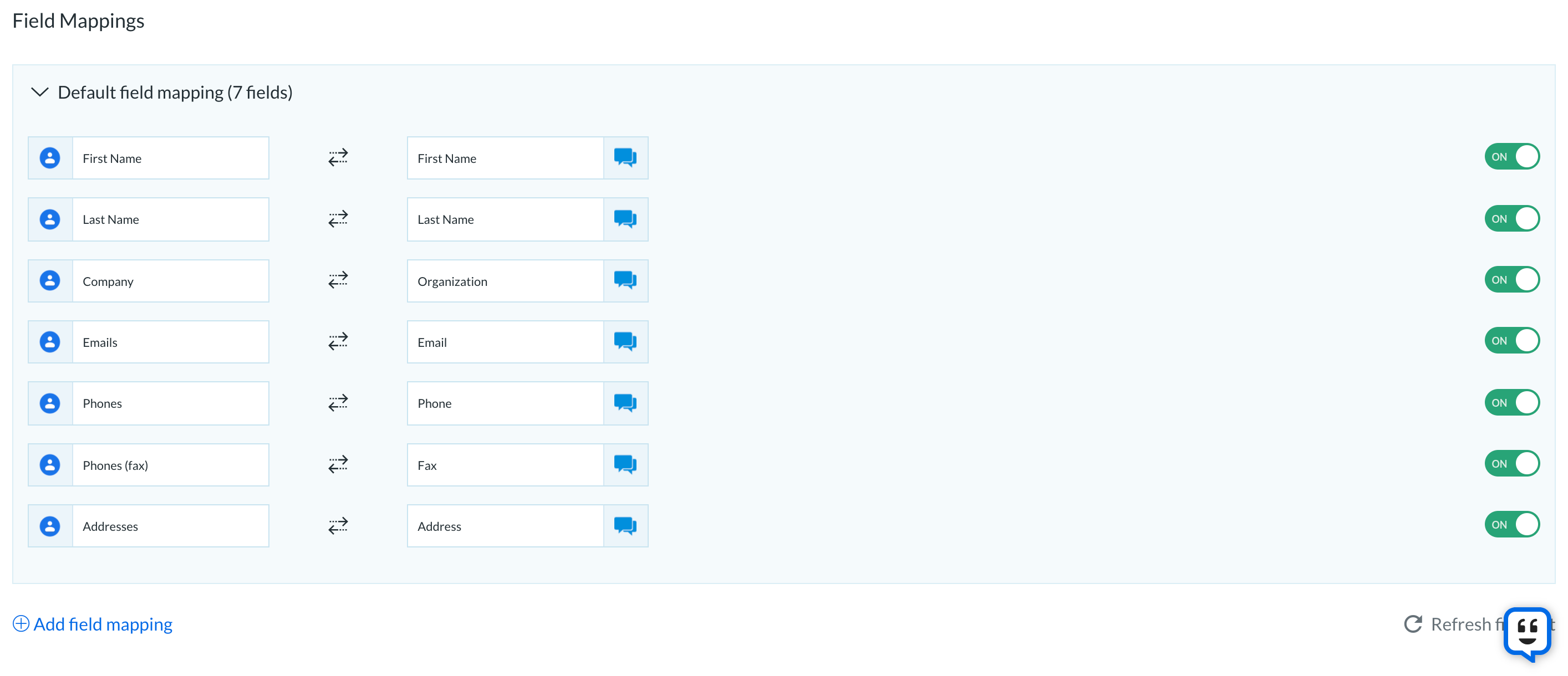 PieSync syncs the default name field(s) that come with the apps, however sometimes the apps you are connecting will have different data structures. For example, app A may have first and last name in separate fields while app B combines them in a single field. PieSync automatically addresses these sync issues in the background so each app is receiving data in the correct format.
Using the Add field mapping button at the bottom of the list, you can use customisable field mapping to map additional field combinations.
Mapping between two fields can only exist if the types of fields are compatible. The compatibility will determine the direction of the mapping.
At the bottom of the connection configuration view, you can:
Delete the connection
Save for later
Start syncing

For more information see https://www.piesync.com/help/ or contact our 24/7 chat support team.
---
---